Invisalign. The Clear Alternative to Braces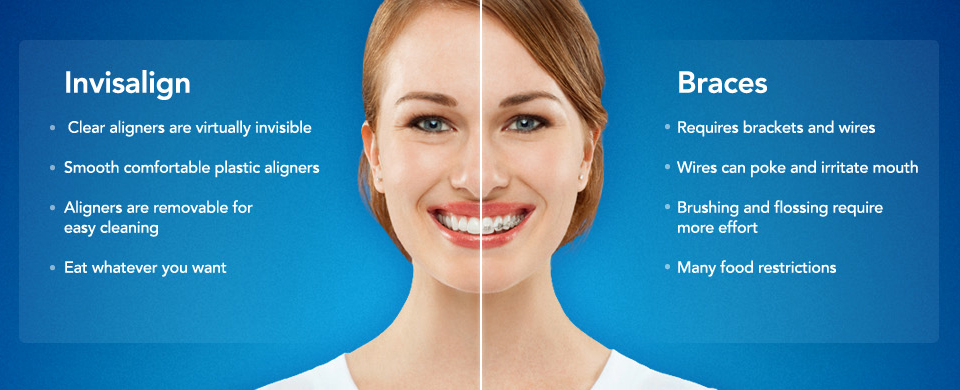 Oakwood Dental Arts NC is proud to offer our patients one of the most advanced cosmetic dental treatments available: Invisalign in Hickory, North Carolina.
Why Choose Invisalign?
Invisalign uses a series of invisible, removable, and comfortable aligners that no one can tell you're wearing.  So, you can smile more during treatment as well as after.  Invisalign is made with 3D computer imaging technology and has been proven effective.  Invisalign is the best clear alternative to braces!
Benefits
Aligners are invisible. No one will know you're wearing them except you.
Unlike braces, the aligners are removable.
You can eat and drink what you want while in orthadonic treatment.

Brushing and flossing are easier than with traditional braces.

Invisalign is comfortable. There are no metal braces to cause mouth abrasions.
With no wires and braces to adjust, you spend less time in the orthodontists chair.
Call To Set Up Your
FREE

Invisalign Consultation
What Is the Invisalign Treatment Process?

Not every dentist in Hickory, North Carolina offers Invisalign. Dr. Hyle McKinney has received the proper training for administering Invisalign and can give you the well-crafted smile you've always dreamed about. Give us a call to set up your consultation to discuss whether this is the best option for you.
Create a Custom Plan
Dr. McKinney will use 3D imaging to map out your teeth and their current location, allowing them the ability to create a custom treatment plan for the movement of your teeth.
Receive Your Clear Aligners
Next, you will receive your Invisalign trays. You will need to wear them 20-22 hours a day for maximum results. You will also need to progress through the different trays at a steady pace—normally one every week.
Routine Checkups
You will need to make routine checkups to ensure that your Invisalign treatment is on the right track. Every 6 weeks is often the most beneficial time, but it can vary.
Improve your smile today with Invisalign in Hickory, North Carolina. Contact Oakwood Dental Arts NC at 828-324-6235 or email mckinneydds@OakwoodDentalArtsNC.com to schedule your appointment to discuss dental cosmetic options.